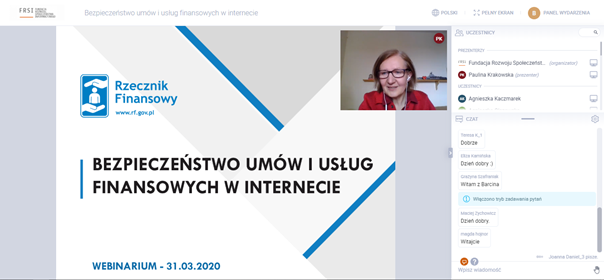 On March 31, 2020, FRSI - the FINLIT project coordinator and the Office of the Polish Financial Ombudsman operating as part of the Financial Education Partnership (PREF) jointly organized an internet seminar on "Security of financial contracts and services on the Internet".
It is worth adding that this webinar took place as part of the international campaign Global Money Week (GMW) under the slogan "Learn.Save.Earn" and the European "Week with the Internet", which this year takes place under the slogan "e-Mocni throughout life ".
The webinar was hosted by Katarzyna Morawska from FRSI, and the expert Paulina Krakowska from the Office of the Financial Ombudsman explained to participants of the meeting how to verify financial offer agreements, both those concluded in traditional circumstances and those - increasingly popular - available on the Internet. The expert paid special attention to what should be done before concluding such a contract and told how to safely make online transactions. Online meeting participants also had the opportunity to ask the expert questions in real time.
Learn more about the role and activities of the Polish Financial ombudsman here: https://rf.gov.pl